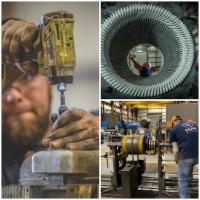 Red Stick Armature - A Legacy of Excellence
Red Stick Armature Works, Inc. is the largest and oldest independently owned complete electric motor repair shop in Louisiana. Working with hundreds of customers in the energy, petrochemical and agricultural industries as well as municipalities throughout Louisiana and Mississippi. Some names they service that are easy to recognize are ExxonMobil, Phillips 66, BASF, Entergy , Mosaic and Baton Rouge Water. This now thriving West Feliciana business has its humble beginnings in the home business of a young soldier.
EC Howard founded the company in 1959, after returning from serving in the Navy in World War II. He used the GI Bill for training, and then began the business in his home garage, explained Joe Howard, current CEO and grandson of EC. During the early growth years of the business, it was in North Baton Rouge. In 1991 EC Howard's son, Carey Howard, took over the business and then in 1992 moved it to West Feliciana to its current location. He ran it until 2017, along with his sons, who joined him in 2002 and 2003. Also, helping run the business was his wife, Cathy Howard, who began working for the company in 1987. Cathy ran the administrative side of the business and was a crucial part of its success. She retired as CFO in 2017.
Carey Howard moved the family business to be closer to his home and community. "We value being closely tied to the success of our community. Most of our employees live in West Feliciana Parish and having a successful business means we get to help provide a successful community for everyone to enjoy," said Joe.
Joe and his brother, Casey Howard, COO, are continuing the Howard legacy by focusing on the core values that laid the foundation for the company. "We encourage our employees to do the right thing, grit it done, put the customer first, be dependable, and do what you can't," said Joe Howard. "Our technicians have decades of experience and a reputation for being the best, and our technical specialist are legends in our industry."
Currently employing 70 people Red Stick Armature is poised to continue growing under this leadership as it looks to the future. "Our leadership team is focused on supporting our community, as well as supplying an environment that attracts employees and sets the standard for our industry," said Joe Howard.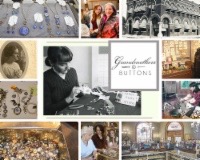 Grandmother's Buttons - A Handmade Local Treasure
The charming jewelry and gift store located in downtown St. Francisville known as Grandmother's Buttons has now became an international wholesale brand and growing internet retailer. This growing brand has its humble beginnings in Susan Davis' grandmother's thirty-plus button boxes. "One of the guiding principles of my grandmother's life was to save anything that could be repurposed," said Davis. "We never throw anything away in our family." In 1985 after taking home several of her grandmother's button boxes, Davis started repurposing antique buttons into jewelry. A couple of months later she attended craft shows to sell her creations, including Broadmoor Craft show in Baton Rouge and the Jackson Assembly Antiques show. "We had recently moved back to St. Francisville and I was looking for something to do so I wouldn't have to commute back and forth to Baton Rouge."
In 1987, Davis sold to her first wholesale account – Baton Rouge department store Goudchaux (which later became Maison Blanche). At this time Davis' husband, Donny, who previously worked their family land, parked his tractor and became the company's business manager. In 1994, to house their growing business, the Davis' purchased a 1905 building in downtown St. Francisville that formerly housed the Bank of West Feliciana. In 1995, we opened the downstairs for retail and a button museum. Upstairs we housed our offices and jewelry manufacturer studio, explained Davis. "We were terrified when we first bought the building," said Davis. "We didn't know if it was too far off the highway, there was some damage to the building, and we had never bought a building before. Turns out it was one of the best business decisions we ever made. It was a good fit for my family," said Davis. "I could be upstairs designing and raising a family."
"I have always had a store manager," explained Davis. "I am so thankful for the many employees who have been with us for so many years!" Treva Tidwell is our current store manager. Melissa Roark has been in production for 30 years, along with Corda Walker for 25 years. Kristy Small has worked with our wholesale division for 14 years. This family of women, including Susan's daughter Anna, has worked for years to design and assemble over 20,000 pieces of jewelry annually that are sold in the United States, Canada and Grandmother's Buttons St. Francisville, including adorning the gift shops of the British Museum, the San Francisco Museum of Art and the Biltmore Estate.
Since 1988 Grandmother's Buttons has not only sold retail locally but has also sold to the wholesale market in the Handmade Section of the Dallas and Atlanta Gift Market. Davis explained that really her favorite part of the business is the hunt for unique pieces and parts for the jewelry. "I love visiting the New York Garment District and digging through dusty warehouses," said Davis. "We are so thankful that we made a trip in early March this year before everything was shutdown." After finding her treasures, Davis returns to her upstairs workshop and along with her staff create these beautiful masterpieces. "When people order online, we let them know, each piece is unique and your piece will look slightly different because we search for the perfect button to complete the look."
When asked what has kept them viable and still popular, Davis said, "We have stayed true to our original focus of repurposing antique buttons into jewelry. The majority of our jewelry has a button that is 120+ years old and if not at least a vintage button (meaning 40-80 years old)." Over the years our industry has changed, said Davis. A lot of retail jewelry is imported from other countries to the United States but we have stayed small and American made. The majority of our pieces and parts are still American made, including castings made in Louisiana. Also, we continue to innovate, she said. "We spread out the use of the 100 year old buttons by bringing in color with vintage glass pieces."
Our industry has not only changed its resources but also changed in the area of websites. It used to be controversial to do wholesale and retail websites. Now most manufacturers do both. We are so thankful that last fall we began working with a new marketing consultant to grow our online business. Davis says their online business continues to grow as new customers, retail and wholesale, around the world discover them.
Davis explained that they have had to adjust some parts of their business due to the Covid crisis. They recently closed their New Orleans' location on Magazine Street. "It has been shut down since the beginning of the pandemic. We were not on the residential end of Magazine, but more on the tourism end. We did not think the location would be viable without conventions being held in New Orleans so we decided to close it." However, Davis and Grandmother's Buttons team continue to move forward despite the pandemic. "People seem to feel safe to come here in small groups. We are doing everything we can from offering masks, sanitizing counters and steaming clothes to help our customers and employees feel safe." Davis said. "We are also moving forward with our wholesale division, which has recently been added as a vendor on faire.com."
So next time you stop by Grandmother's Buttons, take a moment to step into the bank's old vault to visit buttons from a time gone by. Look around the store and try to spy the antique or vintage button in each piece of jewelry you purchase. When you do, hopefully you will be reminded of a local artistic young lady who made her entrepreneurial dreams come true because she saw treasure in Grandma Bettie's button box that day!
Temple Design Creates for Our Community
Located in the heart of downtown St. Francisville, Temple Design offers everything from custom logo designs and advertising campaign work to political yard signs. Started in 2002, Amanda Temple McKinney laughed as she shared, "After 5 years of traveling with my husband's career in the Army, my husband asked me where I wanted to go. I said I wanted to go home." McKinney explained that after returning home and adding to their young family, she decided to begin her own business. Temple Design began with a shared office downtown. As services and employees were added, the business moved to its own office on Leondard St. and then eventually in 2014 found its current resting place at 11888 Ferdinand St. The staff now includes April McGhee, graphic designer, and Claire Mott, office manager. "We also consider my dad (Thomas Temple) part of our staff. He has been my runner all these years and a great encouragement to me," shared McKinney.
Moving to their current location gave Temple Design the opportunity to expand their business into retail sales. "We began by adding the 70775 retail line," said McKinney. The 70775 line started as t-shirts but has expanded to include long sleeve comfort color t-shirts, make up bags, beach bags, beach towels, hats, visors and much more! McKinney explained that they assist businesses with their own branding lines as well. Customers have them design business logos and then print them on anything from business cards to shirts and hats.
In the past, much of their business has included designing for local event advertising. "This is the main way the pandemic shut down has affected our business. Many local events are cancelled so they do not need our assistance designing posters, advertising cards, etc.," said McKinney. She said, "We have missed the income. But really more than that we really enjoy helping coordinators of events and businesses because we feel we can help be a small part of their success!"
As a safety precaution during this time, Temple Design is asking that clients make appointments for their design services. They are also an authorized UPS drop off service and ask that clients follow that protocol as well. Other than those guidelines, they are back to regular business. "We are here to help clients with face to face consultations to create the best outcome versus ordering online and being unsure of your results! We proof out all our work ahead of time and even just small things like allowing customers to touch and feel t-shirt thickness and paper stock to help ensure the best product. That is the difference that working local provides," said McKinney.
Bank of St. Francisville Shows Dedication to Our Local Small Businesses
As the pandemic of 2020 began to affect businesses all over our nation, Bank of St. Francisville quickly adapted its business plan to continue to offer services to all its customers. "We immediately accommodated by utilizing new health protocols, and making adjustments to continue to serving our customers. This including things such as opening all teller lanes, holding client meetings outdoors, and rotating our staff to minimize the number of essential workers at our branch at one time. This was further aided by the Federal government allowing electronic signatures for banking items. Technology truly allowed us to continue business operations smoothly." said Aimee Cook, Vice President of Commercial and Real Estate Lending.
As the bank adjusted to these restrictions, information began to be released from the federal government on the Payroll Protection Program, part of the federal government's $2.2 trillion economic stimulus plan, under the Small Business Administration. "We were pre-qualified to accept applications, due to our bank being a SBA approved lender." To assist with the onslaught of requests for funding, Bank of St. Francisville created teams. One team would assist our customers with the application process, another team would input the loan information onto our server, another reviewed and audited the files, another team uploaded the completed applications to the SBA site and lastly our loan operations team produced and funded the loans. "I am extremely pleased with how the bank successfully accomplished processing so many applications. We committed to putting in extra hours as soon as the application period opened and hundreds of independent, locally run businesses in our area looked to local banks for a lifeline. There was a sense of responsibility that came with distributing the dollars to small businesses across our community," said Cook.
After the initial round of loans, the funds allocated by The Cares Act, were quickly depleted. "While banks waited for a second-round funding, we continued to do everything we could do assist applicants. I hosted webinars and our team continued communicating with our customers.  One of the benefits of a community bank is that we are smaller and we can quickly adapt. There were constant revisions made to the program from the federal government during this process. We were able to quickly communicate this to our local customers."
"There still remains questions regarding the aspect of loan forgiveness for PPP funds," explained Cook. "However, the SBA has yet to release the guidance on this portion." In the meantime, Bank of St. Francisville is dedicated to operating in a safe manor. "We continue to limit the numbers of customers in the bank at one time. We practice social distancing and wear masks when needed. We are using our drive thru to allow customers to sign documents if needed." "I am beyond proud of the commitment and dedication of our employees who have worked so hard to help so many small businesses that are struggling to get through the unprecedented economic shutdown. This in turn helps our small community in a big way," said Cook. "Everyone from our tellers, to additional sanitizing between shifts, to our bank president, Carter Leak, working weekends helping assist with applications. It was truly a team effort!"
West Feliciana Hospital Provides COVID Care
The Chamber would like to highlight the hardworking health care providers at West Feliciana Hospital. The new hospital building has been open since October 2017 and has resulted in an expansion of services for the parish.  According to Tara McLin, Human Resource manager, the hospital has had many changes and has swiftly risen to the challenge of adapting to the Covid crisis. One common challenge that hospitals across the nation have faced includes staffing.  To respond to this pandemic, WFH has implemented multiple strategies related to staffing to ensure the community is cared for.  Tara McLin elaborates, "we have added shifts in the clinical areas to ensure proper staffing while staggering shifts where possible to minimize traffic in the hospital and clinics, ultimately reducing overall exposure. Another approach we took was to implement a reserve pool of employees that come in when a teammate is unable to report for work.  The combination of strategies has ultimately ensured we have appropriate staffing levels to care for the community."
One of the challenges in this process has been complying with the ever changing recommendations from the CDC and LDH, according to McLin. "Currently, we have limited visitors in the hospital to assist in minimizing exposure for the community. All people entering the facilities on campus are required to go through screening prior to entry, which includes temperature taking and responding to a series of questions, and are provided a mask to wear at all times.  Many of our operations have been temporarily suspended to comply with the Governor's orders and federal recommendations and we are currently reviewing actions plans to re-open services to the public in a safe and compliant manner. "
McLin also said that the hospital has been very fortunate to have such great cooperation between the parish leaders and local physician offices. "At the beginning of this pandemic we coordinated with all local physicians in the parish to ensure proper procedures were in place to care for potential COVID patients, conduct COVID testing, and monitor PPE for the parish."
McLin also explained some of the advantages of being a community hospital, "our team is smaller which can make it easier to quickly implement drastic changes in operations. By maintaining close contact with the larger city hospitals, we have also been able to learn from the measures they have put in place.  We are a close community and our staff takes a family approach to caring for our patients going above and beyond to ensure patients and family members are comfortable. To provide an example, while we have limited visitors, we have implemented a mechanism to allow family members of patients to be able to video chat with their loved ones in our care and provide regular updates to those family members."
McLin also said they are very thankful at the hospital for the outpouring of community support, including everything from donations of PPE from Demco and Entergy and meals from local restaurants for employees.
For updates on CDC/LDH guidelines as well as hospital procedures visit the hospitals Facebook page and COVID page on their website – www.wfph.org
Audubon Market is a Cornerstone to Our Community
Our local grocery, Audubon Market, has always been one of the cornerstones of our community, but  has become such a vital part of our health and well-being during this recent pandemic. They have been taking extra care to serve its community and keep it healthy.
Lisa Leblanc, owner, explained, "We are closing every night at 7:00 pm to allow extra time to do a full cleaning of the store. We are also sanitizing throughout the day. In addition, we are offering special shopping hours for seniors." Leblanc explained that some parts of the pandemic have been challenging. "We often request pages of items to be sent in and then only receive partial shipments. The manufacturers cannot produce enough at this time. Also, we are paying extra attention to our employees' health by taking temperatures as they arrive to work each day."
Leblanc explained that this family run business has seen many changes over the years since the owners first purchased Feliciana Supermarket in 1989, located next to Hancock/Whitney's current location. Original owners were John David (her father), Mike and Lisa Leblanc and Darrell David. Later Richard Jarreau joined the group. In 1999, they added the St. Francisville Market to their grocery line up.
Their current location, Audubon Market, was opened in 2015. "We had originally looked at locating our new store next to the Subway shopping center," Leblanc said. "We delayed moving there and it worked out for the best being in this new location." Leblanc explained that they are pleased to offer so many new services in the location. "It was past time to do it. Our parish has really grown and we are glad to offer so many new things like our bakery, sushi and specialty items."
Lisa also explained that the community has been very supportive of the changes and challenges the market has faced during this pandemic. Audubon Market intends to continue their extra precautions until is safe to resume normal hours of operation and looks forward to that day.